About Phil…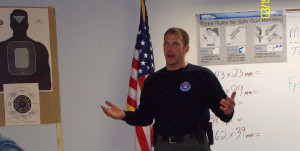 Phil McFall a certified NRA Pistol Instructor has received additional training from a wide variety of sources including Joseph Simonet, Fred Cowns, and currently trains at Progressive Martial Arts under Moises Martinez.
IDPA competitor
SWAT Medic
Over 13 years of reloading pistol and rifle ammunition.
Phil marries his knowledge, experience, and lively methodology to teaching Basic Pistol Class into a fun & fast paced learning experience.